6. April 2018.
Photograph Antonio P.
Experience the unique island lifestyle and embrace all of its virtues
The close connection between Waterman and sport began a long time ago, from the very first moment Waterman opened its doors. 20 years ago, Waterman hosted the famous tennis school Tarjan from Straubing, for the first time. Both young tennis professionals and their tennis coaches fell in love with Supetar which turned out to be a perfect setting for their tennis training and preparations for tournaments, both mentally and physically.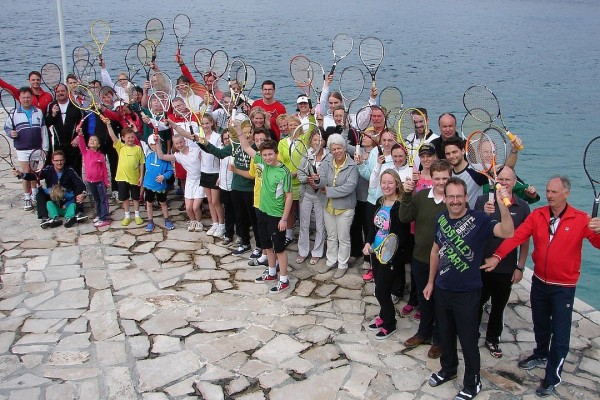 Supetar offers great weather with warm summers and mild, moist winters – conditions that perfectly sum up the Mediterranean climate of its surrounding countryside, mountains and coastline. Supetar boasts the ideal open-air conditions for year-round tennis or any other sport supported by favorable Mediterranean climate. Besides its natural preconditions, there are countless reasons why you should consider Waterman as your "active vacation" spot. A few highlights worth mentioning are 5 tennis courts, 3 padel courts, 7 indoor and outdoor pools, sauna, and Island SPA center with treatments to finally rejuvenate your body and mind as a well-deserved reward after your workout.
The tennis club is definitely not the only sports partner Waterman has. There are many yoga and fitness groups from all over the world coming to indulge in all perks Waterman treats its guest with.
In today's hectic world, it is difficult to find a pre-match mental and physical preparation that works for you, but in Waterman you might!
Padel now available at Waterman!
Welcome to first Padel Centre at Island Brač!!! Padel is one of the fastest growing sports in the world! Enjoy playing it with your family, friends, and colleagues at Svpetrvs Hoteli Waterman Resorts. We promote fun in a social, lively, and sporty environment.
You'll love the facility and our state-of-the-art pitches.
Join us now for some fun!
BOOK YOUR COURT NOW: https://www.matchi.se/facilities/watermanresorts?lang=en